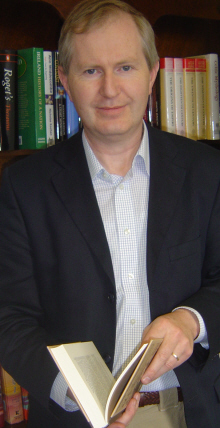 The Diocese of Clogher is very pleased to have Mr David Bolton, Director of the Northern Ireland Centre for Trauma and Transformation, to speak in a public lecture entitled 'Questions & Possibilities: Lessons from Trauma' on Thursday 3rd May at 8.00pm in the Clinton Centre, Enniskillen.
In his talk David will consider the journey from traumatic events in our lives, to recovery and growth. "The impact of a traumatic event from a psychological and emotional point of view can be immense. During the years of conflict our understanding of the psychological and emotional impact of violence has grown, and as a result, new and effective treatments for traumatic disorders have been developed," he said.
Also during his talk he will also consider whether our community as a whole can learn anything from the insights gained in understanding and treating trauma.
Based in Omagh, the Northern Ireland Centre for Trauma and Transformation, where David is Director, has been operational since 2002 and is currently funded by the Office of the First Minister and Deputy First Minister (OFMDFM). Its principal aim is to provide training and support in relation to cognitive therapy and psychological trauma related disorders. It also undertakes research and policy development and where possible provides support to other countries through its humanitarian relief programme.
Prior to his appointment as Director of the Northern Ireland Centre for Trauma and Transformation, Mr. David Bolton was involved in the response to a number of major tragic events (some associated with the Troubles) as a social worker and health and social services manager.
This talk continues the public lecture series featuring renowned speakers of both local and international standing, as part of the Macartan 1500 Project, which celebrates 1500 years since the death of the Diocese's patron saint - St Macartan. Shortly Archbishop Josiah Idowu-Fearon will be visiting the diocese and will speak about Nigeria's recent conflict at Enniskillen's Ardowen Theatre, (6 June 2007, 8.00 pm) on the theme of 'Nigeria - Challenges to Contemporary Society'. The Project, coordinated by Clogher Diocese, is part financed by the European Union through the EU Programme for Peace and Reconciliation and managed for the Special EU Programmes Body by the Northern Ireland Rural Development Council (RDC).
For further information please contact the Diocesan Office on (028) 66 347879. Although the event is free of charge the organisers would appreciate a telephone call from those interested in attending to reserve a place.
23 April 2007